Siri Coming to the Mac Menu Bar in OS X 10.12 Later This Year
Siri will make its long-anticipated debut on Mac in OS X 10.12 later this year, following over three years of testing, according to 9to5Mac. The report claims Siri will have an icon in the OS X menu bar, and users will also be able to set a keyboard shortcut and configure other settings through System Preferences.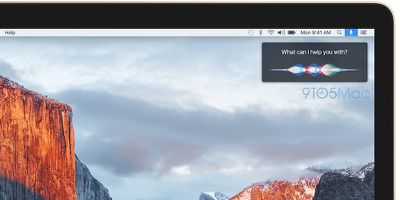 When a user clicks the Siri button, a dark, transparent Siri interface will appear in the top right corner of the screen, as shown in our mockup by Michael Steeber. This interface will feature colorful sound waves to indicate speech input. The interface design in testing is not finalized and may still change before the summer introduction, according to sources.
When the Mac is connected to power, users will also be able to make "Hey Siri" voice commands akin to the latest iPhones and iPads. Siri is expected to be one of the headline features of OS X 10.12, codenamed "Fuji," alongside other minor user interface tweaks. The changes will allegedly not be as significant as OS X Yosemite in 2014.
Apple launched Siri on the iPhone 4s in 2011, and it has since expanded the feature to select iPad, iPod touch, Apple TV, and Apple Watch models. The virtual assistant can be used to make web searches, launch apps, look up sports scores, play music, check the weather, set calendar appointments, and more.
OS X 10.12 will likely be announced at WWDC in June ahead of a public launch in the fall.