Bill Gates Says Apple Should Unlock San Bernardino Shooter's iPhone for FBI [Updated]
Shortly after Apple was ordered to help the FBI recover data from the San Bernardino shooter's iPhone, Apple quickly said they would oppose the order, garnering the support of other major tech companies like Facebook, Twitter, Google and Microsoft. In a new interview with the Financial Times, former Microsoft CEO Bill Gates has instead backed the FBI, denying that they are asking for a back door.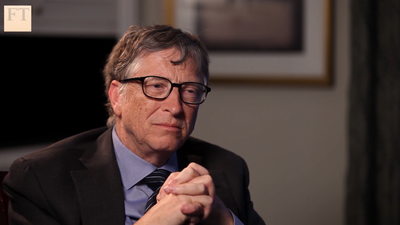 "This is a specific case where the government is asking for access to information. They are not asking for some general thing, they are asking for a particular case," Mr Gates told the Financial Times.
While Apple CEO Tim Cook has consistently argued that unlocking one device would set a dangerous precedent, Gates doesn't believe that it would. He argues that Apple has access to the information, but that they are declining to provide access to the information. Gates compares it to when a bank or telephone company is requested to give up records for a particular person.
Gates went on to say that there were benefits to governments having some access to information, but that there would have to be rules in place to limit how they can access that information. He says that he hopes people will "have that debate so that safeguards are built and so people do not opt out -- and this will be in country by country -- [to say] it is better that the government does not have access to any information."
FBI Director James Comey
said in an editorial
yesterday that the request was "not trying to set a precedent" and that it was instead about "the victims and justice." However, the FBI also confirmed that it had worked with San Bernardino county officials to reset the iCloud password of San Bernardino shooter Syed Farook. Apple said that, had the FBI not attempted to reset the password, the company
would have been able to access
the needed information as the iCloud backups would have still been accessible.
The FBI then requested a version of iOS that would remove passcode features like time limits and data erasure measures and other tools to access the iPhone. Apple has maintained that creating such a tool would open a can of worms, setting a dangerous precedent and allowing both bad guys and good guys to take advantage.
Update: In an interview with Bloomberg, Gates said he "was disappointed" with headlines stating he sides with the FBI.
"That doesn't state my view on this. I do believe that with the right safeguards, there are cases where the government, on our behalf, — like stopping terrorism, which could get worse in the future — …is valuable."
Note: Due to the political nature of the discussion regarding this topic, the discussion thread is located in our Politics, Religion, Social Issues forum. All forum members and site visitors are welcome to read and follow the thread, but posting is limited to forum members with at least 100 posts.