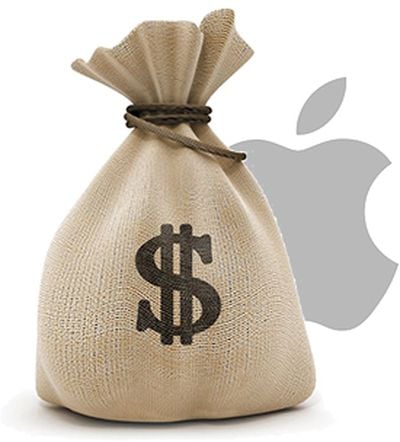 Apple has filed a preliminary prospectus supplement with the U.S. Securities and Exchange Commission as it prepares to issue a $10-$12 billion bond sale, reports CNBC. The debt raised will fund Apple's capital return program, including continued stock buybacks and dividend payments to shareholders, and general corporate purposes such as the repayment of debt and acquisitions.
Apple will be offering floating rates that mature in 2018 and 2019, in addition to fixed rates that mature between 2018 and 2046. Apple's proposed 30-year bond due in 2046 may yield 2.15 percentage points more than similar-maturity Treasuries, according to Bloomberg. Apple is also planning to issue seven-year green bonds, typically used for clean energy and other sustainable initiatives, the report claims.
Apple's capital return program currently runs through March 2017, as announced last year. The company has returned $153 billion in capital to investors of its $200 billion currently authorized, so the iPhone maker will almost certainly need to raise debt through this bond sale in order to continue stock buybacks and dividend payments before setting a new authorized amount as soon as April.
Apple held $215.7 billion in cash and marketable securities, partially offset by $53.2 billion in long-term debt, as of the first fiscal quarter of 2016, but a significant portion of that money is held overseas and would be subject to high U.S. taxes upon repatriation. By raising debt through bonds, Apple can pay for its U.S. operations at a much lower rate, especially given its Aa1/AA+ bond credit rating.
Update: Apple has filed a final pricing term sheet with the U.S. SEC confirming its nine-part $12 billion bond sale.