App Store and iTunes Experiencing Issues for Many Users Worldwide
Apple has updated its System Status page to reflect that many users may be unable to access, purchase, or update apps on the App Store on iPhone, iPad, and Mac. Multiple other iCloud services are or were also experiencing downtime, including the iTunes Store, iBooks Store, iCloud Drive, and iWork for iCloud.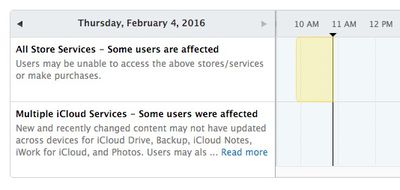 The issues began shortly before 7:00 a.m. Pacific and appear to be widespread, affecting customers in the United States, Canada, Europe, and elsewhere, according to social media posts. Apple TV services and Apple's Volume Purchase Program are also affected by the service issues.
Update (9:10 a.m. Pacific): Apple's System Status page shows that the App Store, iTunes, and other iCloud services have been restored.