Downtime
By MacRumors Staff
Downtime Articles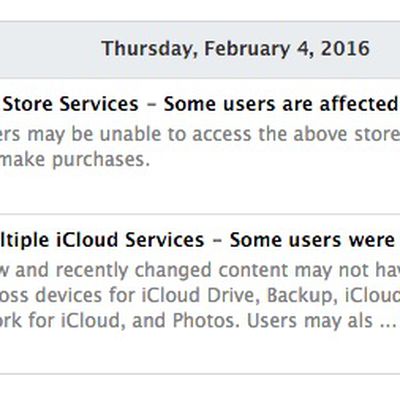 Apple has updated its System Status page to reflect that many users may be unable to access, purchase, or update apps on the App Store on iPhone, iPad, and Mac. Multiple other iCloud services are or were also experiencing downtime, including the iTunes Store, iBooks Store, iCloud Drive, and iWork for iCloud. The issues began shortly before 7:00 a.m. Pacific and appear to be widespread,...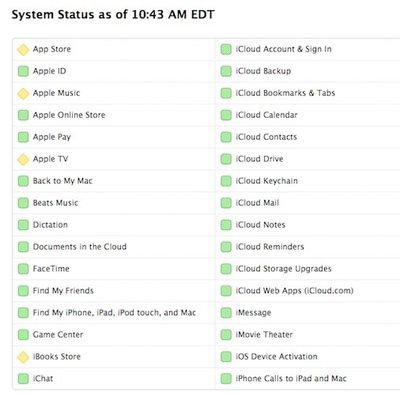 A growing number of users on Twitter are reporting issues with Apple Music, Beats 1, iTunes and the App Store as nominees are announced for the 2015 MTV Video Music Awards (VMAs) exclusively on Beats 1. MacRumors can confirm that many of Apple's cloud-based services are currently not loading or are displaying error messages in the United States and Canada. Apple has updated its System Status ...

A number of iCloud services are currently experiencing downtime in the United States, Canada and other countries, an issue that became widespread within the past hour or so. A significant number of users have tipped MacRumors and posted on Twitter and other social media platforms about being unable to sign into iCloud or access related services such as Mail and Find My iPhone. iTunes is ...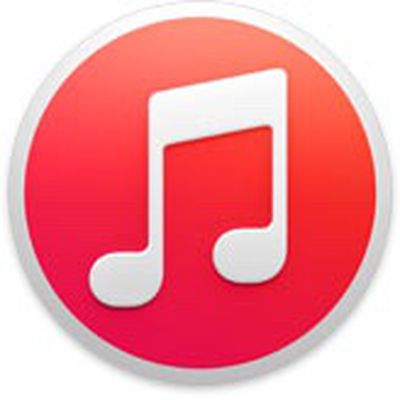 A number of Apple services are experiencing an extended period of downtime, including the App Store and iTunes Connect. The iOS and Mac App Stores are displaying various error messages to users about being unable to connect or certain items being unavailable, as spotted by The Next Web, and iTunes Connect and TestFlight are also down for developers. The outage is affecting a significant number ...