Apple Ceases Free iTunes Radio Streaming Worldwide
Apple today officially ended free streaming of its iTunes Radio channels worldwide, incorporating the catalogue of stations into its subscription-based Apple Music service.
The change follows Apple's announcement earlier this month that its free radio-listening feature would be discontinued at the end of January but would remain available to Apple Music subscribers.
As of this morning, iOS Music app users who tap on a radio station are bounced to a screen prompting them to join Apple's premium streaming music service.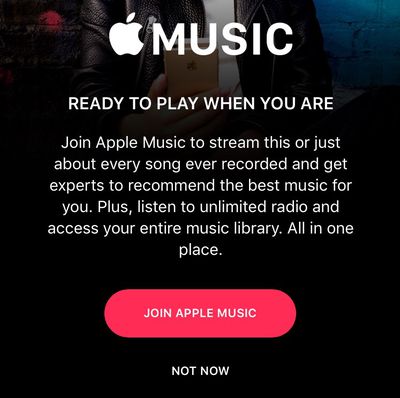 Likewise, iTunes users on a Mac who attempt to access the stations or create their own are met with a dialog window asking them to "Get on Our Wavelength" and join Apple Music.


Users with an iTunes Match subscription are also no longer able to access the stations. However, Apple's Beats 1 radio channel remains available to iTunes users worldwide as a free listening option.
Apple had quietly continued to offer ad-supported iTunes Radio stations in the United States and Australia even after the launch of Apple Music on June 30, 2015. However, after the company's decision to wind down its mobile iAd platform, the feature was already being limited in other regions to those who pay for Apple's streaming music service.
iTunes Radio was originally released with iTunes 11.1 and iOS 7 as a free ad-supported service, offering music discovery through featured and genre stations provided by Apple or through the creation of new stations based on a specific artist or song.