Apple Watch and Apple TV See Record Quarterly Sales
Both the Apple Watch and the Apple TV set new quarterly sales records in 1Q 2016, according to information shared by Tim Cook during today's earnings call. The Apple Watch saw especially strong sales in December as people purchased the device during the holiday season, something that's perhaps not a surprise given the significant discounts offered by some third-party retailers.
While Apple did not offer discounts itself, Best Buy cut prices on the Apple Watch by $100, and Target offered a $100 gift card with the purchase of an Apple Watch. These price drops likely boosted Apple Watch sales by a good amount during the quarter. Apple also expanded Apple Watch availability to more than 48 countries ahead of the holiday season.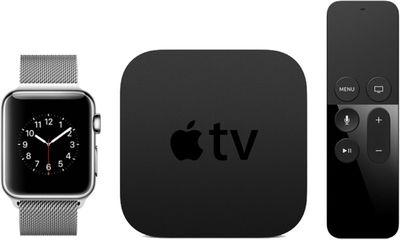 As for the Apple TV, Apple says it saw its best quarter ever following the launch of the fourth-generation device. The Apple TV 4, priced at $149 to $199 depending on capacity, includes features like a full App Store, a touch-based remote control and Siri voice control. Available apps on the Apple TV have expanded, with 3,600 total apps now downloadable on the device.
Apple does not break out sales of the Apple Watch and the Apple TV, choosing instead to lump them into an "Other" category that also includes iPods and Beats headphones, so exact sales numbers for the two devices are not known. Revenue for the Other category did see a big increase, jumping more than 40 percent from $2.7 billion in 1Q2015 to $4.35 billion in 1Q2016. Sales were also up quarter over quarter, as revenue in 4Q2015 was at $3 billion.
Overall, it was a record quarter for Apple with $18.4 billion in profit on $75.9 billion in revenue. During the quarter, the company sold 74.8 million iPhones, 16.1 million iPads, and 5.3 million Macs.