Sprint Stops Offering Two-Year Phone Contracts
Sprint will stop offering two-year phone contracts to customers who are activating a new account starting today, according to an internal document procured by AndroidCentral. While phones will not be available with subsidies on a two-year contract, tablets will.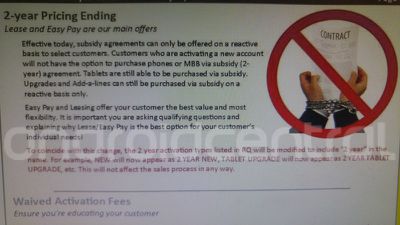 As outlined by the document, two-year contracts will still be offered to select customers on a "reactive basis". The move makes Sprint the final carrier of the four major American carriers to end two-year contracts. New Sprint customers will be able to purchase their phones through Sprint programs like Easy Pay and iPhone Forever.
In 2013, T-Mobile began the trend by announcing its Un-carrier payment plans. Verizon followed suit in August 2015 and last month AT&T announced that they would drop two-year contracts. While AT&T's implementation takes away the ability for existing customers to sign up for two-year contracts, Verizon's does not, allowing existing Verizon customers to renew their two-year contracts.
Sprint has been planning to move away from two-year contracts for a while, first announcing the move in August 2015. However, the carrier had not announced when its implementation would take effect at the time.