Ahead of the kickoff of the 2016 Consumer Electronics Show, Seagate has unveiled its newest product, the Seagate Backup Plus Ultra Slim hard drive. According to Seagate, the Backup Plus Ultra Slim, which is the successor to the Backup Plus Slim Drive, is the "world's thinnest" 2TB mobile hard drive.
The Backup Plus Ultra Slim features an all-new design with an enclosure that's just 9.6mm thick, 50 percent thinner than other 2TB drives available on the market. Available in platinum and gold, the Backup Plus Ultra Slim features an attractive metal outer shell with a repeating circle-shaped pattern. It will be available in 1TB and 2TB capacities.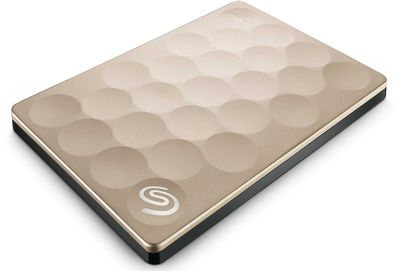 "The launch of the Backup Plus Ultra Slim builds on Seagate's rich history of award-winning innovation to give users even more capacity in an incredibly small form factor," said Tim Bucher, vice president for Seagate's Consumer Group. "Based on our breakthrough ultra-mobile hard drive technology, this new storage solution gives them a better way to manage the increase in both data volumes and number of devices."
Like all of Seagate's Backup Plus hard drives, its newest product ships with 200GB of free Microsoft OneDrive cloud storage (available for two years), Lyve software compatibility, and Seagate's Dashboard software for scheduling automatic backups.
Seagate plans to begin shipping the Backup Plus Ultra Slim during the first quarter of 2016. Pricing information has not yet been released.