Biometric Sensor Company Valencell Accuses Apple of Stealing Technology for Apple Watch
Biometric sensor company Valencell today filed a lawsuit against Apple (via AppleInsider), accusing the Cupertino-based company of patent infringement, deceptive trade practices, and breach of contract, all related to dealings Apple had with Valencell before the launch of the Apple Watch.
According to Valencell, Apple expressed interest in its PerformTek heart rate sensor technology starting in 2013, leading Valencell to believe Apple would license PerformTek technology for the Apple Watch's heart rate sensor. Apple met with Valencell in 2013 and late 2014 to discuss incorporating PerformTek-powered features into the Apple Watch and is said to have expressed "great interest" in Valencell's wrist-based heart rate-sensing technology.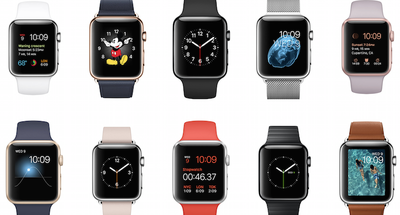 Valencell demonstrated a prototype PerformTek-powered watch in 2013 to 15 Apple employees and later sent Apple PerformTek products to test and examine in detail. Valencell believes Apple deceptively solicited technical information and know-how under the false pretense of a licensing agreement despite having no intention to actually license the technology. Furthermore, Valencell accuses Apple of deciding it was more financially beneficial to risk infringing on Valencell's patents than to license them.
Apple did not have an intention of licensing Valencell's PerformTek Technology. Instead, Apple's interaction with Valencell was fueled by a business decision that the benefits of infringing upon Valencell's patented technology outweigh the risk of being caught and ultimately forced to pay damages. This practice is consistent with the statement by Apple CEO Steve Jobs that Apple has "always been shameless about stealing great ideas."
Valencell believes the Apple Watch infringes on four of its patents, all related to heart rate sensing technology. Valencell is suing for patent infringement, the aforementioned deceptive trade practices, and breach of contract related to some Valencell white papers Apple employees downloaded from Valencell's website using fictitious names and data.
Valencell is requesting a preliminary and permanent injunction preventing future acts of infringement, along with damages and an ongoing reasonable royalty rate for licensing purposes should a permanent injunction not be granted. Valencell has also filed a similar lawsuit against Fitbit.