Apple's Kevin Lynch Explains Method Behind Apple Watch's Precise Timekeeping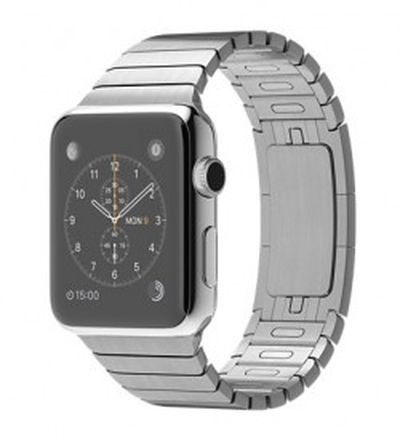 One of the Apple Watch features Apple often highlights is the device's precise timekeeping, which Apple says is within 50 milliseconds of the global time standard. Apple's VP of Technology, Kevin Lynch, today spoke with Mashable and The Telegraph to share some details on how Apple achieves that level of accuracy.
Lynch told Mashable that the Apple Watch is so accurate that the hands of two Apple Watches placed next to one another will move in perfect unison. This is achieved primarily through 15 Network Time Protocol (NTP) servers that Apple has around the world, kept inside of buildings with GPS antennas that connect to GPS satellites broadcasting time data from the U.S. Naval Observatory in Washington, D.C. The Observatory houses an ultra accurate atomic clock, which uses electronic transition frequency to measure time.
Apple's time servers communicate the time to iPhones across the world, and the iPhone in turn syncs with the Apple Watch via Bluetooth to provide the exact time. Communicating a GPS signal from a server to an iPhone to an Apple Watch over Bluetooth has its own delays, which Apple corrects for via software. Apple's NTP servers make sure iPhones and Apple Watches keep time at "Stratum One" accuracy, within milliseconds of "Stratum Zero" devices.
Speaking to The Telegraph, Lynch also described the hardware inside of the Apple Watch that makes sure the time remains accurate. Each Apple Watch has a temperature-controlled crystal oscillator inside to combat time drift that clocks and watches see. The oscillator also makes sure the Apple Watch remains warm enough to keep accurate time in very cold climates. Thanks to this hardware, the Apple Watch is even more accurate than the iPhone.
"The second hand on every Apple Watch is perfectly in sync, and each device is accurate to 50 milliseconds of Co-ordinated Universal Time (UTC), the world's time standard, which is below human perception, so when you look at it you can't tell the difference," he explains.
With New Year's Eve approaching, Lynch says Apple Watch owners will have the most accurate watches in the room. "If you're in a room on New Year's Eve wearing one, you will be the best reference for when the New Year actually begins," he said.