iOS 9.2 Tidbits: Top Stories for News, AT&T NumberSync, Mail Drop, USB Camera Adapter Support, and More
The second major update to iOS 9, iOS 9.2, was released this morning, with a long list of bug fixes and improvements to features and apps like Apple Music, News, Mail, Podcasts, Safari, iBooks, and more. There are quite a few outward-facing changes tweaks and changes to the operating system, and we've gathered up a list of the major new features below.
News - Apple's News app has been updated with features that are designed to make it more attractive to users and publishers. As outlined by Re/code, News will now include lists of top stories curated by Apple editors and published a "couple of times a day." For publishers, Apple is also implementing integration with Comscore.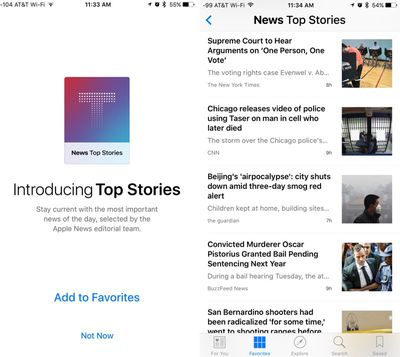 AT&T NumberSync - iOS 9.2 adds support for AT&T's NumberSync service, which is an expansion of Wi-Fi calling. As outlined in Apple's updated Wi-Fi calling support document, it is now possible for AT&T users to place Wi-Fi calls from their iPads, Apple Watches, and Macs (with OS X El Capitan) even when an iPhone is not nearby.
Continuity previously allowed a similar feature, but required an iPhone to be nearby as it used the phone's cellular connection. Similar advanced Wi-Fi calling features are also available to T-Mobile and Sprint users.
Apple Music - There are a lot of small tweaks to Apple Music to remove various pain points. When adding a song to a playlist, for example, it's now possible to create a new playlist instead of having to use an existing one, and playlists are ordered by most recent changes. There are also clearer indicators for which songs have been downloaded, and albums or playlists from iCloud Music Library can be downloaded by tapping the iCloud download button. The classical music catalog in Apple Music has been improved with works, composers, and performers.


Mail Drop - For the first time, Mail Drop can be used on iOS to send attachments up to 5GB in size. Mail Drop is a feature that was previously limited to the Mac version of the Mail app.
iBooks - iBooks includes support for 3D Touch, allowing users to peek and pop into pages from the table of contents, notes and bookmarks, or search results with force press gestures. iBooks also includes support for listening to an audiobook while browsing a library, reading other books, or viewing the iBooks Store.
USB Camera Adapter - With iOS 9.2, iPhones are now able to support Apple's USB Camera Adapter and for importing pictures from a digital camera or DSLR. Previously, only iPads supported the USB Camera Adapter. The iPhone 5 and later appear to work with the USB Camera Adapter. The iPhone 4s with the iPad Camera Connection Kit and the iPod touch do not support it.


Safari View Controller - The Safari View Controller, which is what allows a pop-up Safari window to be used within third-party apps, has been improved. In iOS 9.2, the Safari View Controller supports third-party Action Extensions, letting apps like 1Password be accessed in the Safari view of other apps like Tweetbot. There's also a new ability to long tap on the Reload button to load content without content blockers, support for the request desktop site function, and an edge swipe feature for dismissing the Safari window within apps.

In the Hipchat app for iOS, clicking a link brings up an in-app browser. In iOS 9.1, seen on the left, there's no option for third-party extensions. In iOS 9.2, seen on the right, there's support for third-party extensions like 1Password.​


Unresponsive iPad Pro Fix - Apple has updated its support document for unresponsive iPad Pros to indicate that iOS 9.2 or later may prevent the issue from continuing in the future.
We'll be updating this tidbits post should any new features in iOS 9.2 be discovered. Our dedicated iOS 9 forum is also a great place to get more details on the new update, as users are discussing all of the changes that have been discovered in iOS 9.2.
The new update is currently available to all users with an iPhone 4s or later and can be downloaded over-the-air by going to Settings --> General --> Software Update.