JCPenney Testing Apple Pay Support for Store Cards, Nationwide Rollout Coming in Spring 2016
JCPenney has started testing its store credit cards with Apple's Apple Pay payments service, allowing customers at one location in Texas to add their JCPenney charge cards to Apple Pay. Customers in the Dallas–Fort Worth area visiting the JCPenney store at The Village at Fairview are able to participate in the Apple Pay pilot program, which is set to roll out to stores nationwide in the spring of 2016.
Customers with a JCPenney charge card receive a notice about the Texas pilot program when attempting to add a JCPenney card to Apple Pay using the Wallet app. The notification also includes details about the full launch of the JCPenney Apple Pay service.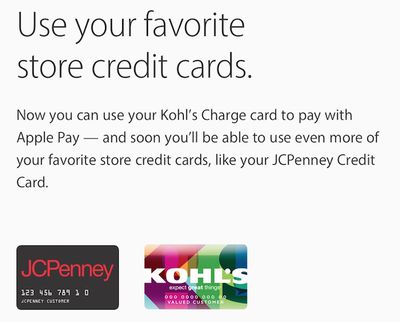 Apple Pay support for store credit cards is a new feature, introduced alongside iOS 9 but announced at this year's Worldwide Developers Conference in June. Thus far, Kohl's is the only major retailer that currently allows its store cards to be added to Apple Pay, but both Kohl's and JCPenney have been touted as the two major partners for the feature.
iOS 9 also brought Apple Pay support for in-store loyalty cards, allowing customers to add their rewards cards to the Wallet app to further cut down on the number of physical cards that must be carried. Walgreens is the first retailer to support the Apple Pay rewards program.