Apple Teams Up With Supercell for 2015 World AIDS Day Campaign
Apple is gearing up for its annual World Aids Day campaign and has partnered with popular iOS app developer Supercell for a (SUPERCELL)RED promotion that will see the developer offering a special in-game decorative item for purchase, with 100 percent of proceeds going towards the Global Fund to fight AIDS.
Supercell is the developer behind some of the most profitable apps in the App Store, with Clash of Clans currently ranked as the number three most profitable app and Boom Beach ranked as number 10. From now until December 4 at 8:00 a.m., players who purchase a (Pile of Gems)RED pack in Clash of Clans, a (Pile of Diamonds)RED in Boom Beach, or a (Bag of Diamonds)RED in Hay Day can contribute to the fight against AIDS.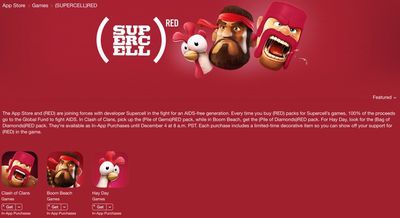 Apple has a long history of working with (PRODUCT)RED to fund AIDS research and charity work, and the company has run a World AIDS Day campaign for the last several years. Each year, Apple highlights World AIDS day on its website and decorates its retail stores with red Apple logos. With World AIDS day taking place tomorrow, December 1, Apple retail stores are expected to see decorations going up this afternoon and this evening.
Apple has also released an official (PRODUCT)RED leather case for the iPhone 6s and the iPhone 6s Plus, which joins the (PRODUCT)RED silicone case that was released alongside the new iPhones in September.