Sony Working on App to Stream PS4 Games on Mac and PC
Sony executive Shuhei Yoshida has announced on Twitter that the company is working on an official Remote Play app for Mac and PC, enabling users to stream and play PS4 games on desktops and notebooks, per The Verge.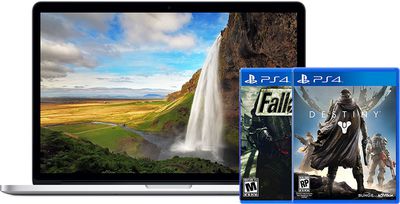 Remote Play is currently limited to various Sony devices, including the PlayStation Vita, PlayStation TV and newer Xperia-branded smartphones and tablets. All new PS4 games must be compatible with Remote Play, except for games that use peripherals such as PlayStation Move.

Some people asked if we plan to provide Remote Play function to PC, and yes, we are indeed working on an official application for PC/Mac. :D — Shuhei Yoshida (@yosp) November 27, 2015
While owning a PS4 gaming console will still be required to play games like
Fallout 4
or
Destiny
on a Mac or PC, the expanded Remote Play app will move Sony games one step closer to true cross-platform playability.