Beginning on November 1, Walmart will begin offering Apple's 16GB Wi-Fi only iPad mini 2 at a significant discount, selling it for $199 instead of $268. $199 is a solid deal and one of the lowest prices we've seen on the iPad mini 2, which was the first of Apple's iPad mini line to ship with a Retina display.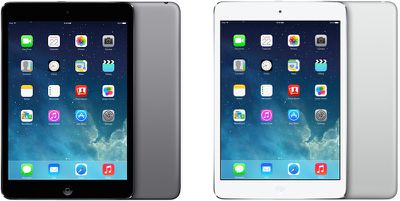 Compared to the current-generation iPad mini 4, the iPad mini 2 has a slower processor, less RAM, and it lacks Touch ID, but it's still a very capable device with an A7 processor, a 5-megapixel rear camera, and 1.2-megapixel front-facing camera. It's also thicker and heavier than the newest iPad mini.
We'll likely see similar deals on the iPad mini 2 during the month of November due to Black Friday, but for now, Walmart's discount is one of the best deals to be had. Walmart will be selling the 16GB iPad mini 2 for $199 for approximately 90 days, the standard amount of time Walmart price rollbacks generally last.