Apple's latest 4K and 5K iMacs support a 10-bit graphics driver on OS X El Capitan, allowing for smoother color transitions, according to German website Mac & i. The 10-bit color output enables 1024 gradations per color channel, a significant increase from 256 with 8-bit depth on previous iMacs.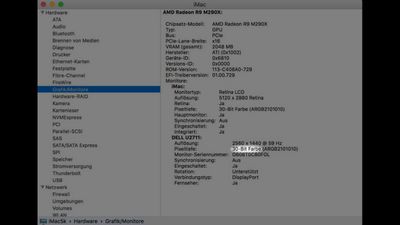 30 bit pixel depth — 10 bit for each RGB color (Image: cinema5D)
Digital filmmaking news website
cinema5D
explains the technical benefits of 10-bit color depth for professional colorists, photographers and editors:
Professionals know that 10-bit screen color is the desired color depth for serious color correction. When you work in 8-bit you often see banding artefacts and lose detail on soft gradients which makes editing harder and less accurate.

This is not to be confused with the bit depth of your source files. We all know that working with video DSLRs or other heavily compressed video footage that is limited to 8 bit color depth gives you less options during grading and 10 bit, 12 bit or even 16 bit color photos and videos are better. On the screen side 10 bit is the desired depth to let you view the end result without gradation steps.
The new 10-bit color depth reportedly only works within the Preview and Photos applications for now, but other third-party software should eventually take advantage of the technology. The 2014 5K iMac also supports 10-bit color depth on OS X El Capitan, according to these reports.