Apple's 12-inch Retina MacBook eschews all ports and traditional charging methods for a single USB Type-C port, which is used for charging and to connect peripherals to the machine. With just a single port to work with, hub solutions are a must for anyone who wants to attach more than one accessory at once and use older accessories that aren't compatible with USB Type-C.
Popular Apple accessory maker Satechi is today announcing a new Type-C Hub Adapter, which expands the capabilities of the USB port on the MacBook. The small hub, which plugs into the side of the MacBook, includes three USB 3.0 Type-A ports, a Micro SD card slot, and an SD card slot.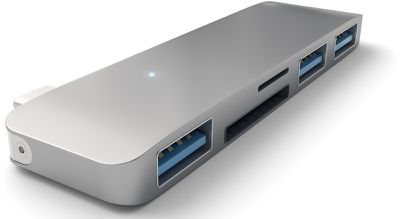 The Type-C Hub Adapter is available in gunmetal, silver, and gold, three colors that are designed to match each shade of the Retina Macbook. When plugged in, the thin adapter sits flush with the MacBook, and a green light comes on when it's in use.


It should be noted that the USB-C hub does not include a second USB Type-C port for passthrough charging, so while the hub is in place, the MacBook won't be able to charge through its USB-C connector.
Satechi's Type-C Hub Adapter is available from the Satechi website and from Amazon.com for $34.99.