Best Buy Accepting Apple TV 4 Orders for Store Pickup on November 4
Best Buy is now accepting Apple TV 4 pre-orders on its U.S. website for in-store pickup or delivery beginning Wednesday, November 4. The electronics retailer is carrying the new Apple TV in 32GB and 64GB models for $149.99 and $199.99 respectively alongside an optional two-year AppleCare Protection Plan for $29.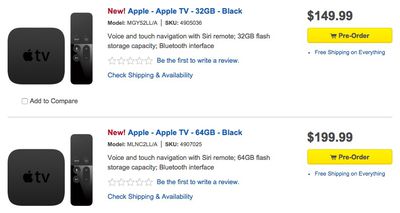 Apple has not confirmed when the new Apple TV will be available at Apple Stores in the U.S. and other launch countries, but next week is a possibility based on Apple's own shipping estimates and Best Buy's in-store release date. Personal Pickup for the new Apple TV is currently unavailable through the Apple Online Store.


Apple began taking online orders for the new Apple TV a few days ago, and the first set-top boxes will begin shipping to customers later this week. The earliest deliveries should arrive on October 30 for those who opted for one-day shipping, while standard shipping delivery estimates range between November 2-6.
Apple TV 4 orders have shifted to "Preparing for Shipment" status for many customers.


Best Buy is a convenient option for prospective Apple TV 4 buyers that prefer in-store pickup and do not have an Apple Store within close proximity. The electronics retailer has around 1,050 stores in the U.S., in addition to nearly 200 locations in Canada. The chain also operates in Mexico.