iPad Pro Hands-on Makes the Case for Productivity Uses, Apple Pencil Is Excellent
With the launch of the iPad Pro coming up shortly, technology and education expert Fraser Speirs got some hands-on time with the device at an invitation-only event in London yesterday. Speirs has been sharing his thoughts from his one-hour session with the iPad Pro and its accessories and answering questions on Twitter, offering an interesting perspective on the user experience.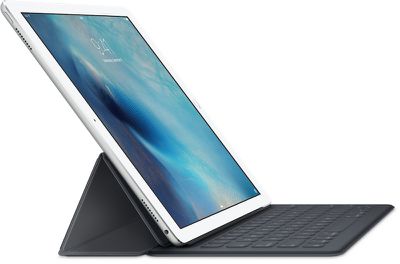 Overall, Speirs was impressed by the iPad Pro, finding it most ideal for productivity tasks in noting the device "is expansive where the Air 2 is intimate. It definitely has a 'work' feel to it, although photos/media are fantastic." Multitasking in particular is "a whole different thing" on the iPad Pro with a true feeling of "two iPads stuck together," an experience that makes it "a great device for serious work and creativity."
If you're the kind of person who uses Editorial, Keynote, Pythonista, Office, Adobe, Omni and Panic apps, you should look at iPad Pro. — Fraser Speirs (@fraserspeirs) October 23, 2015
Speirs is
a bit less enthusiastic
about other use cases, noting that "if you just use it to browse and Netflix" there may not be enough benefit from the iPad Pro to make it worth the increased size and weight compared to iPad Air 2. For
reading
, he feels "it's not a device to snuggle up with" but would be solid for reference work.
Turning to the Apple Pencil, Speirs calls it "extremely impressive" and "certainly the best iPad stylus I have used by a country mile." Palm rejection is described as "near-perfect" and the "best I have ever seen on iOS," making for a smooth experience with writing and drawing apps.


Speirs was less impressed with the Smart Keyboard, calling it "a bit fiddly" due to its size and complexity but a "decent enough" keyboard. As far as the keyboard feel, Speirs compares it most closely to Logitech's Keys-to-Go among accessories iPad users might already be familiar with.
For more of Speirs' thoughts on the iPad Pro and its accessories, check out his Twitter timeline, which is full of tidbits and other impressions.