Apple Invites Developers to Begin Submitting tvOS Apps for Review
Following today's slew of software updates, including a golden master of tvOS for developers and a release of Xcode 7.1, Apple is now inviting developers to begin submitting their tvOS apps for App Store review. Apple will begin taking orders for the new Apple TV next Monday with shipping beginning later in the week, allowing a week or so of lead time for Apple to begin reviewing and approving apps for the new platform before customers begin receiving their set-top boxes.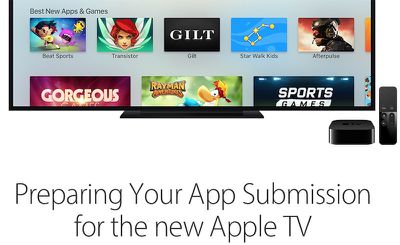 Alongside today's invitation to developers, Apple has also published a new overview giving developers an idea of what steps they need to take to ensure their tvOS apps are ready for submission. The company points developers to Xcode 7.1 and the latest version of the tvOS SDK, and reminds them that apps may be a maximum of 200 MB in the main app bundle with up to 20 GB of content to be downloaded on-demand as users need it.
Apple also includes reference to the company's Human Interface Guidelines for Apple TV to help developers ensure their designs are optimized for the big screen and that their apps will work with the new Apple TV Remote.
Finally, Apple gives an overview of the requirements for App Store product pages on Apple TV, including tips on app naming, icons, descriptions, keywords, screenshots, and universal purchases to support both iOS and tvOS. Apple notes it will review tvOS apps according to the company's App Review Guidelines, and app submissions set for automatic release could go live at any time and immediately become available to developers and testers who already have the new Apple TV.