San Francisco-based accessory manufacturer Waterfield Designs today unveiled a new line of protective cases for the newly announced Magic Keyboard and Magic Trackpad 2. The company promises that the custom-fit cases protect the new Apple accessories from everyday drops and dings, and are thin and light enough to slip into bigger bags.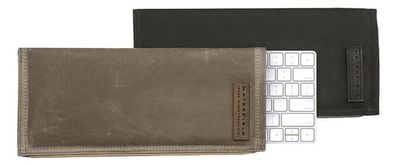 The Waterfield Magic Keyboard Slip case
The Magic Keyboard has three case options for customers to choose from, the first being the full-featured $59
Magic Keyboard Travel Express
, which fits the new keyboard along with power cables, a Magic Mouse and a host of other possibilities in its zippered case. A bit down in price from that is the $29
Magic Keyboard Slip
, which takes the housing and look of
Waterfield's MacBook case
line and shrinks it down to accommodate the slim new Magic Keyboard. The bare-bones $15
Magic Keyboard Socket
promises to protect the new accessory "on a student's budget."
"Many laptop and tablet owners use a separate keyboard with their mobile devices to avoid potential Repetitive Strain Injuries (like carpel tunnel syndrome) and other ergonomic problems," explained founder Gary Waterfield, "But—as too many of us know from experience—one small spill can instantly ruin a Keyboard or TrackPad. We designed the Magic Keyboard and TrackPad 2 cases to protect these devices so that users can take them from workstation to workstation or from work to home with peace of mind."
The Magic Trackpad 2 is seeing a similar new line of cases from Waterfield today, with a $25 Slip case that provides heavier durability and an extra accessory sleeve and the cheaper $12 Socket option for those wanting protection on the cheaper side. All of the company's new cases can be ordered from its official website beginning today, with an estimated shipping date of Friday, October 23.