New 27-Inch iMac Supports Up to 64GB of RAM, OWC Offering Upgrade Kits
Apple's line of newly updated 5K Retina 27-inch iMacs with Skylake will support up to 64GB of RAM, an upgrade from the previous-generation 27-inch Retina iMacs that would only support a maximum of 32GB of RAM. According to OWC, The current 27-inch Retina iMac includes four memory slots that support up to 16GB of memory per slot for a total of 64GB.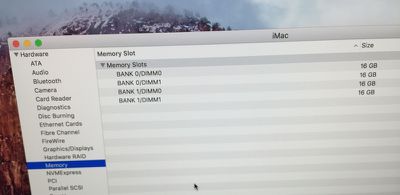 Build-to-order options for the 27-inch Retina iMacs only allow it to be purchased from Apple with a maximum of 32GB RAM, but OWC will offer 16GB modules in 48GB and 64GB configurations for the new iMac. OWC plans to start selling its new 48 and 64GB kits tomorrow, and pricing is as follows:
- Single 16GB module - $329.99
- 32GB Kit using 16GB x 2 Modules - $599.00
- 48GB Kit with 16GB x 2 + 8GB x 2 - $729.00
- 64GB Kit with 16GB x 4 - $1195.00
The new 27-inch iMacs were announced this morning and are available from Apple retail stores and Apple's online store. Pricing for the machines starts at $1,799 for a 3.2GHz quad-core processor, 8GB RAM, 1TB hard drive, and an AMD Radeon R9 M380 graphics card.
Update: OWC has torn down the new 21.5-inch 4K Retina iMac and has learned that the memory is soldered in, which means it can't be upgraded. Customers purchasing a 21.5-inch Retina iMac should get the maximum amount of memory they can afford at the time of purchase as there will be no third-party upgrade options. The maximum amount of RAM for the 21.5-inch iMac models is 16GB.