Adobe Unveils Photoshop and Premiere Elements 14 for Mac
Adobe today released new versions of Photoshop Elements and Premiere Elements, its lower-cost photo and video editing software aimed at consumers. In this year's update, both Photoshop Elements 14 and Premiere Elements 14 have gained several new features and refinements to existing tools, making it easier than ever to use Adobe's software for improving photos and videos.
Photoshop Elements 14, Adobe's image editing software, has gained tools for removing camera shake and for removing haze. Adobe first introduced haze removing tools with its 2015 Creative Cloud update, and has now brought that capability to Photoshop Elements 14. While the haze removal tool is useful for improving the look of outdoor shots, it can also be used to clean up old photos and improve the lighting in backlit shots.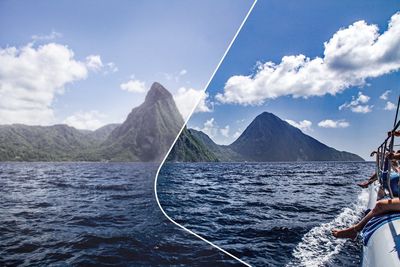 Adobe's shake removing tool introduces auto shake reduction. It's able to analyze a photo and fix it to remove blur caused by camera movement, with tools for fine tuning the final look of the image.


In addition to these two new tools, Adobe has also included new capabilities for several existing features. Guided Edits, the built-in tutorial tool in Photoshop Elements has been updated with new options that walk customers through adding motion blur and resizing photos to specific frame sizes. Guided Edits also include new before and after effects to make it clearer what each one does.
There are enhanced auto correct tools that provide five correction options after subject, color, composition, and lighting for each image have been analyzed, and there are much improved tools for selecting fine details in like hair and pet fur in a photo.


Facial recognition capabilities have been improved and faces are now recognized faster and more accurately, and there's a map that shows where photos with GPS included were taken.
Premiere Elements 14, Adobe's video editing software, now includes support for importing and editing 4K video from a range of different cameras, which is this year's biggest addition. As with Photoshop Elements 14, Premiere Elements 14 has gained improved Guided Edits for adding dramatic effects to videos.


Audio enhancement tools have been moved front and center in the app, making them more accessible, and motion titles have also been improved. It's easier to manage video clips with improved organizational tools and better facial recognition to sort by people, place, and event, and both photos and videos with GPS information embedded will be displayed on a map.
Both Photoshop Elements 14 and Premiere Elements 14 for Mac and Windows can be purchased from Adobe's website for $99.99 each. Bundles are available for $149.99, and existing users can upgrade for $79.99 for one product for $119 for the bundle.