Adobe Announces 2015 Creative Cloud Updates, New Integrated Adobe Stock Service
Adobe today announced that all of its Creative Cloud desktop apps, including Photoshop, Illustrator, InDesign, Dreamweaver, Lightroom, Premiere Pro, After Effects, and more, will receive updates as part of the company's 2015 Creative Cloud Update.
The updates bring new features and performance enhancements with "Adobe Magic" to all of Adobe's Creative Cloud apps, notably including Linked Assets that will allow assets within Creative Cloud Libraries to be updated whenever a change is made, ensuring the update is available to all team members in Photoshop, Illustrator, and InDesign.
Photoshop CC is gaining Artboards, letting artists create multiple design surfaces within a single document for a bird's-eye view of all designs at once. There's also a new preview feature called Photoshop Design Space, which lets users create design-focused desktop tool layouts that ignore unnecessary tools. The exporting experience has been improved, and the Spot Healing Brush and Patch tools are now 120x faster than the same tools in Photoshop CS6 thanks to Mercury Graphics Engine enhancements.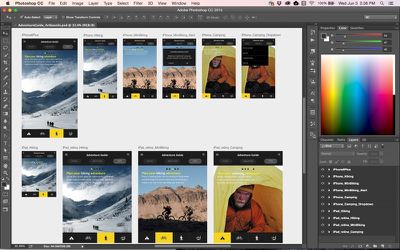 Both Photoshop and Lightroom CC are gaining new haze removal features that will allow haze to be added or removed to a photograph with click, and Photoshop now has the option to add noise to Blur Gallery effects.
Illustrator CC has been updated with significant performance improvements, making it 10x faster than CS6. Zoom magnification is now ten times higher, reaching up to 64,000 percent instead of 6,400 percent, and there's a new Chart interface that makes it easier to create custom charts and graphics.

Premiere Pro CC, Adobe's video editing software, has gained some of the most significant improvements. There's a new Lumetri Color panel that simplifies color workflows with better color correction tools and intuitive sliders, and the app has access to Creative Cloud Libraries. Morph Cut improves jump cuts between sound bytes in interviews for a more polished sequence, and support for the Adobe Premiere Clip mobile app has been improved. Projects from Premiere Clip will now open directly in Premiere Pro for easier editing between mobile and desktop.


After Effects CC now has a face tracking feature that will allow users to create a tracking mask to apply effects like color correction or blurring only to a face without needing frame-by-frame adjustments. Like Premiere Pro CC, After Effects includes Creative Cloud Libraries for in-app access to assets, and there's a new Simplified Preview to help acclimate new users to the motion graphics and visual effects available in software.


After Effect's biggest addition is a new Adobe Character Animator, which lets 2D characters be animated through a webcam that tracks real-time facial movements. This can be used to create realistic motion effects and record dialog.


Along with these updates, there are also minor changes and enhancements to InDesign CC, Dreamweaver CC, Muse CC, Flash Pro CC, and the rest of the CC apps.
Adobe is also introducing a new Adobe Stock service, which is integrated into all of the company's Creative Cloud apps to provide easy access to stock images. Adobe Stock is priced at $9.99 per image, but there are two monthly plans providing 10 images for $49.99 month or 750 images for $199.99 per month. Adobe Stock is available to all customers, not just those with Creative Cloud plans, but CC subscribers get a discount that lowers the cost of the 10 image plan to $29.99 per month.


The updates are accompanied by the launch of a new mobile app for iOS devices, Adobe Hue, which is designed to capture color palettes from photographs to create Looks that can be uploaded to your Creative Cloud Library. Looks can be used as creative references and can be used to improve video footage in apps like Adobe Premiere Pro, Adobe After Effects, and Adobe Premiere Clip for iOS devices.


Adobe's 2015 Creative Cloud updates are rolling out today and should be available shortly.