iPhone 6s Lines Forming at Apple Stores Ahead of Launch Day
With less than one day until the iPhone 6s and iPhone 6s Plus launch in twelve countries, customers have begun forming lines at Apple Stores around the world to purchase one of the new devices. The size of the lineups vary depending on the location and will undoubtedly grow longer as we get closer to 8:00 am local time on Friday in each country.
Longer lines have formed at two Apple Stores in the German cities of Hamburg and Munich on the evening prior to the iPhone launch, while there are shorter queues in U.S. cities such as Chicago and San Francisco. Meanwhile, in Sydney, Australia, a media executive has a robot holding her place in line.
Birmingham, U.K.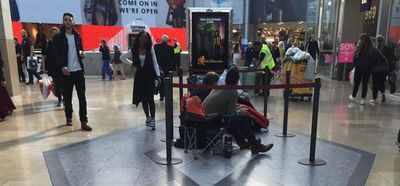 Birmingham customers have the benefit of lining up indoors (via Benjamin Mason)
Chicago, U.S.

A short line has formed at the Apple Store on Michigan Avenue (Thanks, Marc!)
Hamburg, Germany

A large crowd has formed at the Apple Store in Hamburg (via Daniel Knott)
Munich, Germany

Apple Store in Munich has one of the longest iPhone lines so far (via Martin Gollwitzer)
San Francisco, U.S.

A group of six people lined up two days early in San Francisco (via Shara Tibken)
Sydney, Australia

A media executive holds her spot with an iPad robot in Sydney (via Mashable)
Boston, U.S.

(Thanks, Mathieu!)
If you plan on waiting in line at an Apple Store and would like to meet up with other
MacRumors
readers, visit our
iPhone Launch Meetups
forum for various cities. You can also submit your own Apple Store lineup photos to
tips@macrumors.com
.