Inside iOS 9: HomeKit Gains Simpler Set Up, Pre-Defined Scenes, Triggers and More
HomeKit officially became available in June, with the launch of the first HomeKit-compatible products, but as we've highlighted in reviews, Apple's home automation platform is still in need of some work to make it a viable choice for most users.
With iOS 9, Apple is debuting several new HomeKit features that have the potential to significantly improve the way it works, by simplifying some of the setup process broadening supported device types, and introducing key automation features to cut down on user interaction.

Setup
Setting up HomeKit devices isn't difficult, but it does require users to enter a unique HomeKit identifier to pair with an iPhone. In iOS 9, Apple will support scanning the code with the camera, shaving some time off of the setup process. Information displayed during the setup process, like icons, brand names, and images, is also improved, making the process somewhat more streamlined.

Scenes
With HomeKit, one of the most confusing and time consuming things to set up are scenes, which allow several devices to work in unison at a specific command. For example, when arriving home, one might want a scene that turns on the air conditioner and turns on the lights, a task that can be accomplished with a Siri command like "Turn on the Home scene."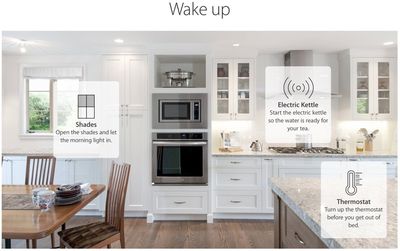 Scenes are useful, but their setup in iOS 8 is not always clear, especially to users who are new to HomeKit. In iOS 9, scenes are more straightforward because developers can add four pre-defined scenes to apps designed to work with their HomeKit-enabled devices. Pre-defined scenes include Getting Up, Leaving Home, Returning Home, and Going to Bed, and will walk users through setting up their devices for each occasion. Siri will automatically recognize these scenes, so Siri response to Scene queries should improve.

To differentiate pre-defined scenes from user-made scenes, user created scenes will be called "Custom Scenes" going forward.

Support for New Types of Devices
iOS 9 adds support for new kinds of connected devices and sensors, paving the way for more HomeKit accessories and better interaction with those devices. Window coverings like blinds and shades are now supported in iOS 9, as are motorized doors and windows, complete home security systems, and programmable switches.
New sensors that will be supported in iOS 9 include those that detect things like carbon monoxide, smoke, and water leaks, and those that monitor air quality and humidity. Sensors that detect motion and movement will also be included in HomeKit in iOS 9.

Remote Access
With iOS 9, Remote Access is improving. It will no longer be necessary to have an Apple TV to access HomeKit devices when away from home because Apple has a new iCloud service that device makers can use for their HomeKit accessories. Before iOS 9, accessing HomeKit devices remotely required them to connect to an Apple TV or it required accessory makers to implement their own cloud services.
In our experience, Remote Access through the Apple TV is unreliable, so hopefully the iCloud change will improve things quite a bit.

Triggers
Triggers are one of the most important new features in iOS 9 because in future devices, they'll allow for a lot more automation. Triggers can be based on location, time of day, and can be set off by the activation of another HomeKit accessory. For example, a HomeKit device that senses when the front door opens will know when you arrive home, automatically setting off a sequence of connected events such as turning on the lights and lowering the temperature.
Developers have access to build triggers into their HomeKit apps going forward, and Elgato's Eve Door and Window sensor will be the first accessory to support Triggers.


Right now, HomeKit is a largely interactive platform, requiring Siri commands or direct action within apps to control devices, which doesn't always make it simpler than just using a light switch. Triggers, combined with timers, have the potential to make HomeKit a more convenient, hands-off automation platform.

Multiple Users
In iOS 8, setting up HomeKit access for multiple users is no picnic, but bug fixes and improvements to the multi-user setup process in iOS 9 will make it easier to invite other people in your household to access HomeKit devices.

Apple Watch
With watchOS 2 and iOS 9, HomeKit devices can be controlled right from the wrist with Siri commands.
Last week, Apple launched a new iOS 9-focused HomeKit site that better explains how HomeKit works and details the ways in which it can be useful to automate the home. The site covers available products, goes over the Siri commands that can be used with HomeKit, and offers information on some of the new iOS 9 features like pre-defined scenes and triggers.
The new site is well worth checking out to get a better understanding of what's possible with HomeKit in iOS 9.