Tim Cook to Appear on 'Late Show with Stephen Colbert' September 15
Just under a week after Apple's "Hey Siri" event, Tim Cook will appear on the new Late Show with Stephen Colbert on Tuesday, September 15, the late night host revealed on Twitter. Colbert's announcement included a picture of him "using" Siri on his Apple Watch to remind him of the interview.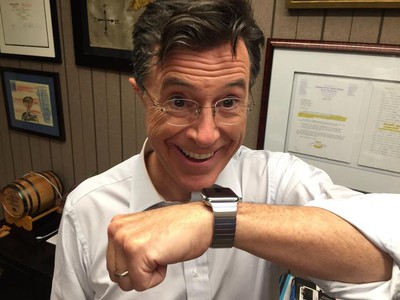 "Siri, put Apple CEO Tim Cook on my calendar for Tuesday, Sept. 15. Oh, and come up with some questions to ask him." pic.twitter.com/mXutum0Bp6 — Stephen Colbert (@StephenAtHome) September 12, 2015
Colbert's
Late Show
has made an effort to not only speak with celebrities like George Clooney, but also politicians like Vice President Joe Biden and tech CEOs like Tesla's
Elon Musk
and Uber's
Travis Kalanik
. Thus far, Colbert's interviews with tech luminaries have seen him ask both pointed questions, like why Uber is pursuing self-driving vehicles if it claims to be creating better jobs for taxi drivers, and sillier ones, like if Musk is a super villain. It's likely Cook's interview will broach Apple's newly announced products: the iPhone 6s and 6s Plus, the new Apple TV and the iPad Pro.
The Late Show with Stephen Colbert airs every weeknight at 11:30 p.m. on CBS, with the show uploading both interviews and extended interviews on its YouTube channel the morning after.