Apple Making Big Hiring Push in Artificial Intelligence and Machine Learning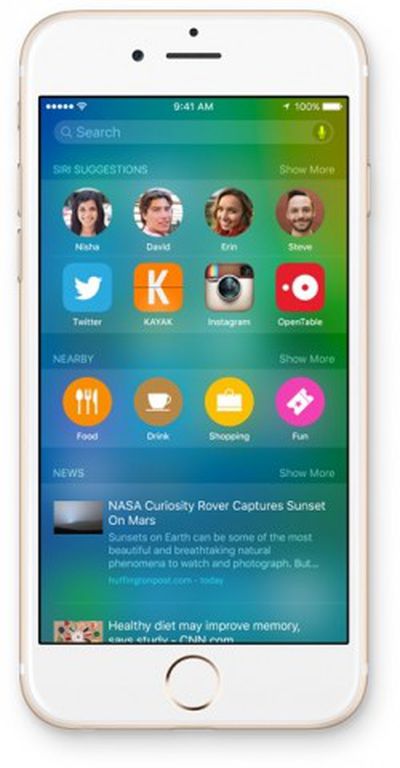 Apple is stepping up its efforts to recruit employees focused on artificial intelligence and machine learning, reports Reuters. The report suggests Apple is looking to challenge Google's lead in features such as Google Now that learn to anticipate smartphone users' needs, something Apple is starting to address in iOS 9 with its new "Proactive" feature.
As part of its push, the company is currently trying to hire at least 86 more employees with expertise in the branch of artificial intelligence known as machine learning, according to a recent analysis of Apple job postings. The company has also stepped up its courtship of machine-learning PhD's, joining Google, Amazon, Facebook and others in a fierce contest, leading academics say.
Apple's machine learning efforts are in large part built with Siri in mind, and Siri should play an important role in this Wednesday's media event, as indicated by the event invitation's tagline.
Many of the currently posted positions are slated for software efforts, from building on Siri's smarts to the burgeoning search features in iOS. The company is also hiring machine learning experts for divisions such as product marketing and retail, suggesting a broad-based effort to capitalize on data.
Reuters notes that Apple faces a challenge with machine learning due to its focus on privacy and reluctance to tap into all possible data sources. For example, with the Proactive features of iOS 9, Apple is primarily keeping all of the data and analysis on the user's phone, enhancing privacy but limiting some of what can be learned from data passed to the cloud.
Apple's strict policies not only limit what can be learned from user data but also discourage some machine learning experts from pursuing positions with Apple due to that lack of access. Still, Apple is said to be opening up about machine learning, engaging with academic programs in its efforts to lure talent and already having tripled or quadrupled the size of its machine learning team over the last few years.