Apple Decorating Bill Graham Civic Auditorium Ahead of Next Week's Event
Ahead of next week's big iPhone-centric event, Apple has begun decorating the Bill Graham Civic Auditorium in San Francisco where the event will take place. As shared by several Twitter and Instagram users, signs with the Apple logo are beginning to go up, and several Apple-branded flags are flying.
A white Apple logo with rainbow-colored accents against a blue background is shown on one wall of the auditorium, shared by CBS/CNET photographer James Martin. The same design was seen on the invitations for the event and was created to mimic Siri's look on the Apple Watch and iOS 9.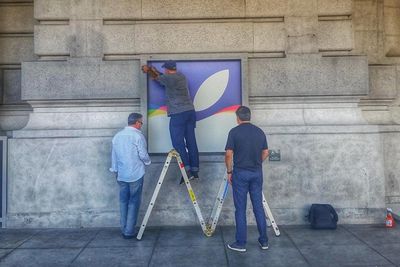 Security is heavy around the auditorium, with security guards and police officers guarding signage that's being put up, according to someone on site who spoke to MacRumors and provided pictures. Some of the security guards are now wearing outfits with Apple logos on them.


The colorful Apple logos are accompanied several flags surrounding the auditorium, featuring a white Apple logo on a dark blue background. Swarms of workers are all over the perimeter of the auditorium, running cables up walls into the interior and building out the infrastructure needed for the event.


Along with the flags, Apple has decorated light posts in the area with matching Siri-style banners in a dark blue shade. The decorations for the Bill Graham Civic Auditorium are already beginning to outshine decorations and signage used at past events, and Apple is likely to continue adding more over the course of the weekend.


Apple's upcoming Wednesday, September 9 event is expected to be huge. The auditorium where it's being held seats 7,000, and the company may be using some of the available space to demo products that will be released. The event will see the debut of an unprecedented number of devices, including the iPhone 6s and 6s Plus, the new Apple TV, the iPad mini 4, and the iPad Pro.
Apple is also expected to introduce additional Apple Watch Sport materials, perhaps in gold, and new Sport bands. An iPad keyboard may also make an appearance at the event, and we'll also get release details for iOS 9 and watchOS 2.
MacRumors will provide live coverage of Apple's event, through a live blog on MacRumors.com and on our MacRumorsLive Twitter account.
(Thanks, John!)