Apple and Nike settled a two-year-old class action lawsuit that challenged their advertising claims regarding the Nike+ FuelBand. The lawsuit alleged that Nike and Apple made misleading statements about the FuelBand's ability to accurately track steps, calories and NikeFuel.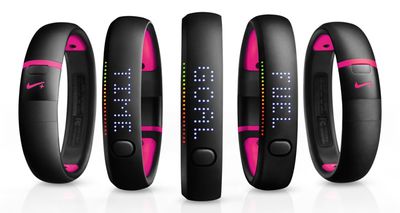 Under the settlement, customers who purchased a FuelBand between January 19, 2012 and June 17, 2015 can make a claim for either a $15 payment or $25 gift card redeemable at Nike-owned stores in the United States and Puerto Rico or at Nike's online shop. The number of claims that a customer may submit depends on the number of FuelBands they purchased. Claims can be submitted until January 4, 2016.
While Apple was included in the class action lawsuit, Nike will be paying the settlement administrator and attorney's fees on its own and Apple has no responsibility for payments or gift cards.
Apple stopped selling the Nike+ FuelBand and other fitness trackers in both its retail and online stores this past March, while a report last year indicated that Nike would discontinue making new FuelBands to focus on software for other devices.
Customers who bought a Nike+ FuelBand between January 19, 2012 and June 17, 2015 can find out more about the settlement via the legal notice authorized by the California state court.