Leaked 'iPhone 6s Plus' Images Showcase Rear Casing and 'Stronger Body'
A few new images of the so-called "iPhone 6s Plus" today have been shared by Future Supplier (via Nowhereelse.fr), putting emphasis on the new iPhone's visual similarities to the iPhone 6 and iPhone 6 Plus line-up while mentioning a "stronger" construction to the device's rear casing.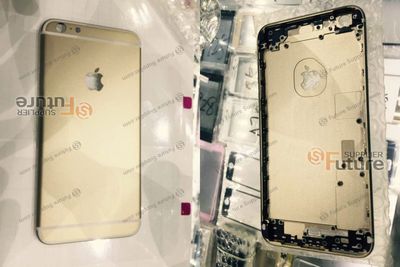 Future Supplier noticed a slight difference between the iPhone 6s Plus and last year's model, specifically in the location of a few screws used to hold the loud speaker module. But otherwise, the website noted a pretty aesthetically similar device, which makes sense for an "S" generation upgrade for the iPhone 6 line.

iPhone 6s Plus on the left with screw holes that are "slightly higher" than the iPhone 6 Plus' on the right
Another slight difference may come in the material actually used to create the rear housing for the iPhone 6s Plus, according to a source that spoke with
Future Supplier
. The source noted that the backing of last year's iPhone 6 Plus was "smoother" than the new iPhone, but simultaneously the 6s Plus will be getting a "stronger" rear housing, perhaps in response to the "
Bendgate
" controversy.