A few retail employees at Apple Store locations have complained directly to Apple CEO Tim Cook, saying the company's policy of checking its employees' bags for security reasons was "embarrassing and demeaning." The new record comes from a court filing and is part of a 2013 lawsuit claiming the Cupertino company should compensate its employees for the time the bag checks take (via
Reuters
).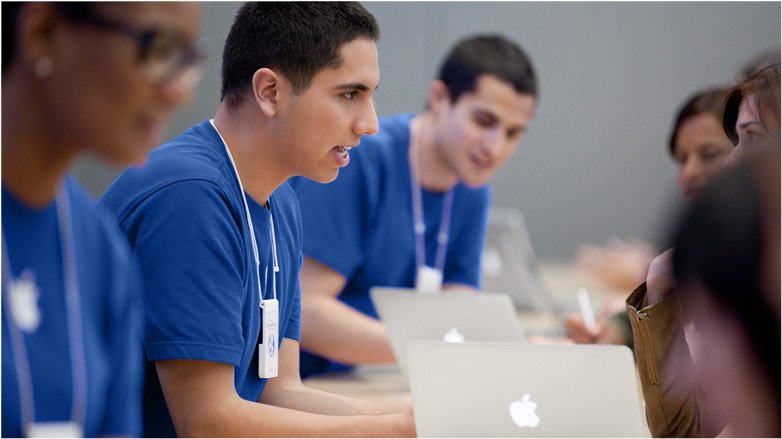 One of the workers in the lawsuit sent an email to Cook back in 2012, claiming that Apple retail store managers "are required to treat 'valued' employees as criminals." In the filing it was said that Cook then forwarded the complaint to both top retail and human resources executives asking, "Is this true?" No responses to Cook's inquiry were documented within the filing made public this week.
In the original lawsuit, which is seeking class action status after being dismissed last year, Amanda Friekin and Dean Pelle claimed that these bag checks were mandatory every time a sales rep left the store and were meant to discourage theft. In one of the original emails sent to Cook in 2012, the employee simply claims Apple's strict policy breeds an environment of distrust amongst its otherwise loyal workers.
In the 2012 email to Cook, with a subject line "Fearless Feedback from Apple Retail Specialist," the employee said Apple's policy implies the company does not trust its workers.

"These procedures are often performed in front of gawking customers," the employee wrote, adding that workers deserve to be treated with the same respect that Apple shows customers.
As
Reuters
points out, in a Supreme Court ruling last December, Amazon won out over a group of its employees who sued the company for monetary compensation in the time they spent going through security checks at the end of their shifts. The Supreme Court's ruling erred on Amazon's side because it found these security checks were not a "principal activity" of the employees' job description.
A hearing in the lawsuit is set for a July 2 date in court.