Apple Launches Beats Powerbeats2 Wireless Earphones in Apple Watch Sport Band Colors
Somewhat lost among all of the announcements coming out of WWDC last week, Apple on Monday introduced a new set of colors for the Beats Powerbeats2 wireless in-ear headphones, with the new colors matching the Apple Watch sport band options of black, white, blue, green, and pink.
Carrying the same $200 price as the original Powerbeats2 introduced last June after Apple had announced it was acquiring Beats but before the deal officially closed, the new versions are identical with the exception of the new colors. The new headphones have begun showing up in Apple's retail stores, where they are being given a significant amount of promotional space.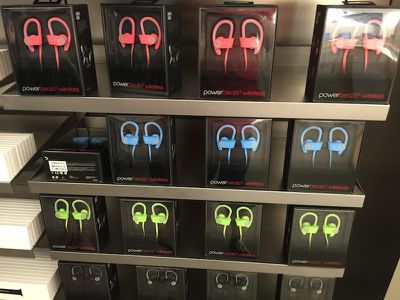 The Powerbeats2 have received mixed reviews over the past year, with reviewers disagreeing over whether the headphones suffer from the excessive bass that has been common with Beats products over the years. The headphones come with a set of ear tips in various shapes and sizes, and the listening experience appears to vary significantly for many users depending on which tips are used.
As Bluetooth headphones, the Powerbeats2 can connect wirelessly to a wide variety of devices, including the iPhone, iPad, and now the Apple Watch. With the Apple Watch's ability to store music on the device for playback via Bluetooth and serve adequately as an exercise tracker under certain circumstances even without a paired iPhone present, wireless headphones are proving to be a popular accessory for Apple Watch owners and something Apple has clearly chosen to capitalize on with the new Powerbeats2 colors.