Pebble Time iOS App in Limbo, Pebble Asks Customers for Help
Pebble's latest smart watch, the Pebble Time, has already begun shipping out to early Kickstarter backers, but customers receiving the device may not be able to use it with an iPhone because the accompanying Pebble Time Watch app has not yet been approved by Apple.
According to a Kickstarter update posted this afternoon, the Pebble Time app has been in limbo since May 22, spending more than two weeks going through Apple's app review process without approval.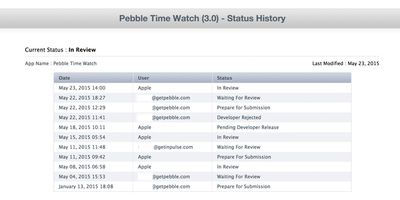 The unreleased Pebble Time Watch app was first submitted to the App Store in early May, and approved on May 18. Pebble went on to push a bug fix for the app on May 22, requesting an expedited review from Apple, which was not granted. Pebble has also been unable to add Pebble Time support to its existing iPhone app because that app has been stuck in the reviewing process since April.
The Pebble Time iPhone app, as we've all noticed, is not yet live on the iTunes AppStore. It remains "in review." This unexpected circumstance pains us as much it does backers with watches ready to set up. We're doing all we can to mitigate the delay and make Pebble Time Watch for iPhone available for download.

We appreciate you hanging in there with us while we navigate this obstacle.
It is not clear why Apple has delayed approval of the two Pebble iPhone apps, and Pebble has not shared details on conversations it may have had with the company regarding the review process. It's possible Pebble has violated an App Store rule leading to the delay, but there's also the possibility that Apple has opted not to approve the app as it competes with the Apple Watch.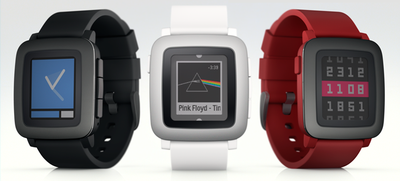 In April, navigation app SeaNav US was rejected for mentioning Pebble support in its App Store description, a violation of an App Store guideline that prevents apps from highlighting competing platforms. Other apps that mention Pebble support have been approved, however, and there are many Pebble-focused apps in the App Store.
In order to motivate Apple to approve its app, Pebble is asking its customers to contact Apple on its behalf, reaching out to Apple through the company's feedback system and through Twitter and Facebook. "Together, we can kindly express our desire to see the App Store #FreeOurPebbleTime with a speedy approval of Pebble Time Watch for iPhone, reads the blog post.
Update 12:08 PM 6/5: Pebble has updated its Kickstarter page to notify customers that Apple has now approved the Pebble Time Watch app. It should be rolling out to customers soon.