Apple Store in Upper East Side of Manhattan Opens June 13
Apple overnight added signage to its upcoming retail location in the Upper East Side of Manhattan that confirms the store will open on June 13. The new store will be located at 940 Madison Avenue, on the corner of 74th Street, and remains under construction ahead of opening. The new store will be Apple's seventh retail location in New York City alongside Fifth Avenue, Grand Central, SoHo, Upper West Side, West 14th Street and Staten Island stores.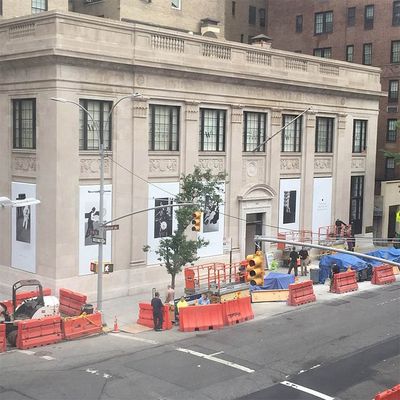 Apple updated its retail store list today to reflect the new
Upper East Side location
, with store hours listed as 9:00 AM to 8:00 PM Eastern on Monday through Saturday and 11:00 AM to 7:00 PM Eastern on Sunday. Apple likely opted for earlier closing times than some other New York City locations to please Upper East Side residents that have
voiced their opposition
against the store and large crowds that it could attract.
The upcoming store at 940 Madison Avenue will occupy a former banking complex built in 1921 that most recently housed luxury retailer VBH. The building itself offers a large amount of space, featuring a 4,000 square-foot ground level and 1,000 square-foot mezzanine. Apple leased the building nearly one year ago and the site has been under renovation since at least October 2014.