Apple Replaces Problematic 'Discoveryd' Process With mDNSresponder in 10.10.4 Beta 4
In today's fourth OS X 10.10.4 beta, Apple made a significant behind-the-scenes change that could result in improved networking performance for some users -- the removal of the "discoveryd" process. As noted by MacRumors forum members and 9to5Mac, in OS X 10.10.4 beta 4, the discoveryd process has been replaced by mDNSresponder.
Since OS X Yosemite debuted in October, there have been ongoing complaints about discoveryd consuming CPU resources, draining battery life, and causing issues with Wi-Fi. These problems have lingered for several months, even after multiple bug fixes and performance improvements included in OS X 10.10.1, 10.10.2, and 10.10.3.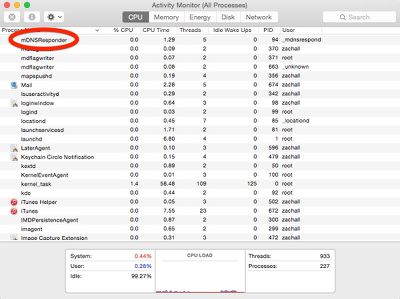 Discoveryd was introduced with OS X Yosemite, replacing mDNSResponder for managing Mac networking tasks, but it's led to a host of problems like those listed above along with issues like slow wake from sleep, failures to resolve DNS names, duplicate machine names, and more, as detailed in a post earlier this year by Ars Technica. Several developers have also complained about discoveryd in Yosemite, including Instapaper's Marco Arment and Iconfactory's Craig Hockenberry.
It's no secret in the tech community that discoveryd is the root cause of so many problems. There are even crazy workarounds. With so many issues, you'd expect some information from Apple explaining ways to mitigate the problems.
The removal of the unstable discoveryd process in OS X 10.10.4 beta 4 may improve network stability problems for many users who have been experiencing continual issues. With the removal of discoveryd, Apple has reverted back to using the earlier mDNSresponder process that was used before discoveryd was implemented with OS X Yosemite.