First Apple Watches With Link Bracelets Begin Shipping to Customers
Though the Apple Watch officially launched on April 24, several of the stainless steel Apple Watch configurations have been unavailable to ship for weeks due to supply shortages. Customers who ordered Apple Watches with Link Bracelets, Modern Buckles, and Leather Loops right after pre-orders began are still without their devices.
As of today, the first orders of these rarer watches appear to be shipping out. Several customers on the MacRumors forums who ordered the Apple Watch with Stainless Steel Link Bracelets are seeing their credit cards charged and have begun receiving shipping information from Apple. The first orders should be arriving to customers tomorrow.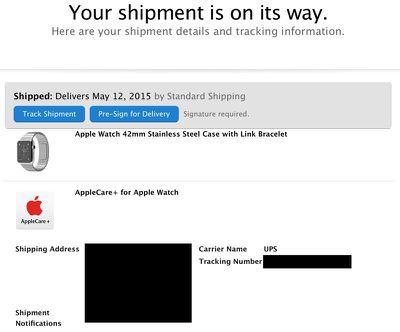 There are many customers who are still waiting for their Link Bracelet Apple Watch orders to ship, but it appears the wait may not be much longer now that the first shipments are going out. Customers who ordered the Space Black Apple Watch with Link Bracelet have unfortunately not yet seen order movement, and it also looks like Modern Buckle and Leather Loop purchases are not yet shipping out.
When Apple started accepting pre-orders on April 10, Apple Watch orders with Link Bracelets in Stainless Steel saw shipping estimates ranging from four to six weeks, while the Link Bracelet in Space Black had June shipping estimates. Apple Watches with Modern Buckle and Leather Loop bands also had four to six week shipping estimates right when pre-orders began, suggesting those models may ship out soon.
Standalone Link Bracelet and Leather Loop bands ordered separately have already begun shipping out to customers. The Modern Buckle band remains unavailable for purchase.
It is not clear why the Link Bracelet, Leather Loop, and Modern Buckle have been in significantly shorter supply than the Classic Buckle, Milanese Loop, and Sport Band, but manufacturing processes may be a factor. According to Apple's site, the Link Bracelet is crafted from 100 components, including links that take more than nine hours to cut, while the Modern Buckle and Leather Loop are made from leather sourced from small tanneries in France and Italy.
(Thanks, Warren!)