iSkelter has released several TechDesks that are designed specifically for Apple devices with Mac air vents and built-in slots for holding the iPhone and the iPad, and as of today, the company's latest desk, the LiftPro, is available for pre-order on Indiegogo.
The LiftPro is an electric desk that can be adjusted to several different heights suitable for sitting or standing, and like all of iSkelter's desks, it comes with built-in organizational components. There are display docks for the iPhone and the iPad, along with recessed felt trays for holding accessories, a stainless steel drink holder, and a built-in mousepad that sits flush against the surface of the desk.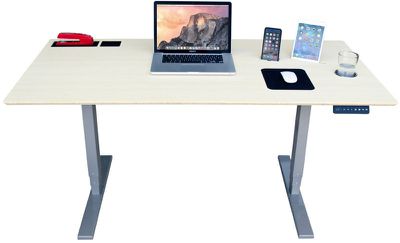 Available in natural or hazelnut finishes, the bamboo desk can be customized with one of three leg colors: black, white, or gray. All of the available features are optional and can be chosen at the time of purchase. According to iSkelter, the LiftPro can support up to 355 pounds and its legs have been tested more than 10,000 times. It comes with a 7-year all-inclusive warranty that covers the motor, frame, and all electronics.
LiftPro includes four preset keys for adjusting the desk to different heights (between 24.5 and 49.5 inches) in just a few seconds with the press of a button. Each position is fully customizable and can be set for each user's preferred sitting and standing heights.
The built-in docks are designed to put the iPhone and the iPad in clear view while sitting at the desk and they also hide unsightly cables. The recessed drink holder sits towards the side of the desk to avoid contact with a Mac, and the lined storage trays at the back of the desk can hold pens, coins, and other small items. Mac cables can also be hidden out of sight, and the desk ships with three cord clips for cable management.


There are a limited number of LiftPro desks available for purchase for $899 on Indiegogo, with prices that go up to $1,099 after early bird purchases have sold out. Desks will begin shipping out to customers in August of 2015, and will have a future retail price of $1,499.