Apple Introduces New 5W Charger With Folding Pins in United Kingdom
Apple has introduced a new 5W USB power charger with folding pins for use in a handful of countries in Europe and Asia. The new adapter is available now for £25 on the Apple Online Store in the United Kingdom, and is designed for use in Ireland, Hong Kong, Singapore and Malaysia as well. The charger is also included in the box with the Apple Watch in those countries.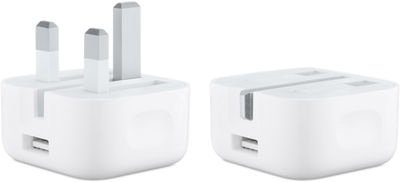 British former professional rugby player Will Carling shared photos of the new folding charger on Twitter earlier this month after claiming to have received the adapter from Apple design chief Jony Ive, who grew up in England and is known to be a rugby fan, but it was unknown at the time if Apple would ever release the product.
The travel adapter, which can also be used to charge an iPhone, iPod touch and several other iPod models, is currently available to ship within 1-2 business days on the Apple Online Store in the United Kingdom. The original
non-folding 5W charger
remains available in the United Kingdom for £15 as of now.