Last month we shared news of Coppertino's upcoming VOX Music Player for iPhone and its new LOOP music locker, and some MacRumors readers helped beta test the new products. As of today, Coppertino is launching the new LOOP music storage service, updating its Mac app, and releasing its new iOS app.
Coppertino has had a VOX Music Player app for the Mac since 2013, but today's iOS app release marks the company's first expansion to Apple's mobile devices. Like the Mac app, the iOS app is designed to play any type of music file, including high-quality FLAC files.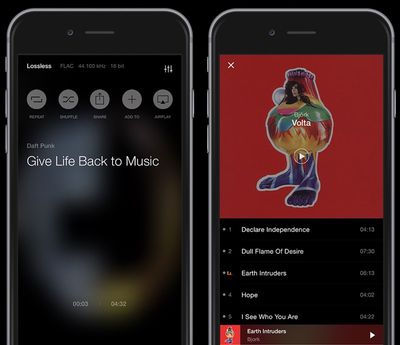 VOX for iPhone's key features include:

- Support for nearly all lossless (FLAC) and lossy (MP3) file formats;
- Full quality playback with no downscaling or converting;
- Proprietary BASS engine delivers crystal clear audio and even makes and MP3 sounds amazing;
- Easy iTunes integration including playlists;
- Soundcloud, Last FM and other third-party integration.
Along with the iOS app, Coppertino is also debuting its cloud-based music locker service, LOOP. LOOP is built into both the VOX Music Player for Mac and the new iOS app, offering users unlimited cloud-based storage for all of their music files. Songs stored in LOOP can be streamed in full quality to any device using the VOX Mac and iOS apps, and songs can be cached for offline playing.
Unlike many popular music lockers like iTunes Match and Google Play Music, LOOP is able to support any type of audio file, including FLAC, playing songs natively through the VOX apps with no transcoding. VOX Music Player for iOS and Mac are free, but using the LOOP cloud music storage service requires a subscription that's priced at $49.99 per year or $4.99 per month.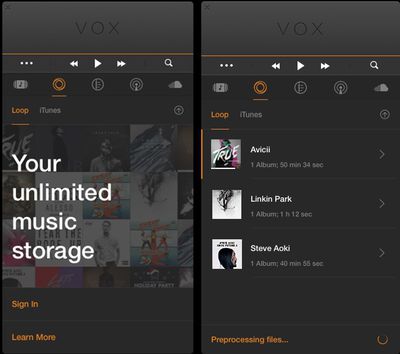 Key LOOP features include:
- Infinite storage space for nearly any audio file, from FLAC, CUE, WAV, MP3 and more;
- High-quality playback on iPhone or Mac;
- Manage, organize and play your entire music collection on iPhone or Mac;
- Unlimited offline playback and cache for music on the go.
MacRumors readers who beta tested the LOOP music service have the option to purchase a subscription at the discounted price of $34.99 to thank them for their help, but Coppertino is also providing all MacRumors readers with a $10 discount. Any MacRumors reader who subscribes to the LOOP music service between 10 a.m. Eastern Time and 5 p.m. Eastern Time on April 15 will be able to get a year of LOOP service for $39.99 instead of $49.99. Anyone wanting the MacRumors discount must purchase LOOP directly from Coppertino using this link.
VOX Music Player for Mac with the LOOP music locker integration can be downloaded from the Coppertino website. The Mac App Store version of the app will be updated in a few days.
The new Vox Music Player app for iPhone can be downloaded from the App Store for free and should be rolling out now. [Direct Link]