Coppertino, the company behind the popular VOX Music Player for Mac, has some major announcements to share exclusively with MacRumors readers today, including its upcoming expansion to iOS, an update to the VOX Mac app, and the launch of an all new music storage service, LOOP.
LOOP is a new cloud-based music locker service that will be built in to both the VOX Music Player for Mac and the upcoming VOX iOS app. Unlike most music lockers available, LOOP will support any type of music file, including FLAC, and it offers unlimited storage. Songs stored in LOOP can be streamed in full quality to any device with the VOX Mac and iOS apps, and music can also be cached for playing offline.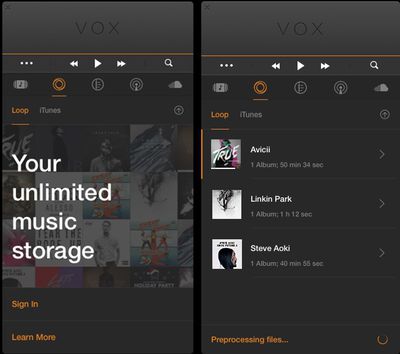 Many of the popular music lockers like iTunes Match or Google Play Music limit the number of songs that can be uploaded and only support a few file types. iTunes, for example, only supports MP3 and AAC, while Google Play Music supports MP3, AAC OGG, and WMA. You can upload FLAC music files to Google Play Music, but they'll be transcoded to MP3. LOOP can play them natively, but access to high quality music files comes at a cost -- the service is priced at $49.99 per year or $4.99 per month, which is a bit more expensive than Google Play Music (free) and iTunes Match ($24.99/year).
Along with LOOP, Coppertino's iOS app is big news, because it's the first time the VOX Music Player has expanded beyond the Mac. Like the Mac app, the iOS app will play any type of music file and it's deeply integrated with the LOOP music service, giving users access to all of their uploaded songs and albums. Like the VOX Music Player for Mac, the iOS app will be available for free -- only the LOOP music storage service costs money.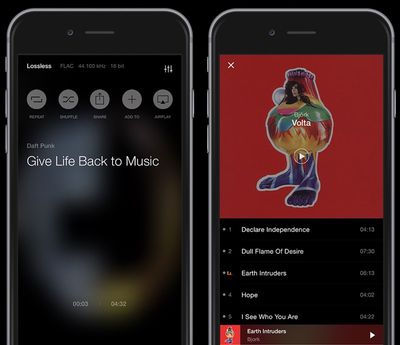 Coppertino's new music service, its upcoming iOS app, and the updated Mac app are still in testing and aren't quite ready for launch, but the company wants to get MacRumors readers involved in the beta testing process with early access to the apps and to LOOP music storage.
The first 700 MacRumors readers who are interested in checking out the LOOP music storage locker and the new VOX apps for Mac and iOS can sign up on Coppertino's website. Those of you who are interested just need to enter an email on the Coppertino site and the company will send a link to download the apps and instructions on signing up for LOOP. Testers will need to install both the iPhone app and the Mac app to take part in the beta program.
During the beta testing period, MacRumors readers will get free access to the LOOP music locker to test it out and can opt for a longer free trial period after the service launches. MacRumors readers will also get an option to purchase access to the LOOP service at a discount, dropping the price to $34.99 for the year instead of $49.99.
Coppertino's existing VOX Music Player for Mac, which will get an update with the LOOP service in the near future, can be downloaded from the Mac App Store for free. [Direct Link]