Microsoft today updated its Office 2016 for Mac Preview, just over a month after it first launched, with an updated look and new features. Word received the most new features while OneNote received no new features. Visual updates include a colored top bar and a more refined bottom bar for Word, Excel and PowerPoint; Outlook and OneNote did not receive visual updates.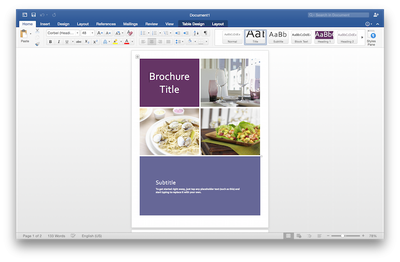 The new look of Microsoft Word in Office 2016
The new version of Word received scrolling performance improvements, new user information settings in preferences, support for the most popular Word keyboard shortcuts, improved support for VoiceOver and other performance enhancements and bug fixes. New features include "custom dictionary" and "exclude dictionary" support, a new search feature for online document templates and a new Macro recording feature.
Outlook's improvements include networking enhancements for Exchange accounts, bug fixes and a new feature called Propose New Time. Meeting attendees can propose a new time for a meeting and the meeting organizers can view the proposed time and modify meeting proposals and then send updates to all of the attendees.

The older look of Microsoft Word in Office 2016
The additions to Excel include a new Analysis Toolpack, a new feature called "Solver" and improved support for VoiceOver and bug fixes. Finally, PowerPoint received improved VoiceOver support and known bug fixes.
Microsoft's Office 2016 for Mac Preview is available at no cost for all Mac users running OS X Yosemite. Microsoft has plans to officially launch the software in the second half of 2015, following this beta testing period.
Update: Microsoft has also released Office Delve for iPhone, enabling Office 365 users to find and discover shared documents from work colleagues.