As Apple Watch pre-orders went live early this morning, it was inevitable that Apple's first foray into wearable tech would become a mainstay on the eBay scalper circuit. Searching around the popular reseller's website this morning, MacRumors has seen prices ranging from the expected $1000 range to over $2000 for the more popular models of the Watch.
Specifically, both the 38mm and 42mm Stainless Steel Space Black Link Bracelet option, which retail for $1049 and $1099 respectively, have hit a $4200 combined price point on eBay. Both the Space Black models in the Sport and Watch collections turned out to be popular options for customers, being some of the first to see shipping times slip to June and beyond.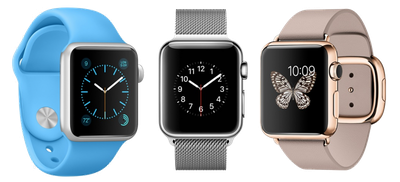 This particular listing is selling both case sizes, meaning the price for each is about $2100, doubling their retail prices. Perhaps most intriguing is that the seller wasn't even able to get in on the initial estimate of a 4-6 week dispatch time, with the potential buyer not receiving the Watches until June. The listing remains up, however, suggesting demand is likely scant at this price.
Less drastically, but still notable, is a $949 price tag for the Stainless Steel White Sport Band Watch, which cost those up and at-the-ready this morning $599. That premium eBay price tag is for a 4/24-5/8 initial delivery date, which is one of only a few listings actually stating a possible April 24 shipping date.
A 42mm Stainless Steel Milanese Loop is going for $1599, while a 42mm Stainless Steel Link Bracelet is listed for $3200. Both are set for what appears to be a 4-6 week dispatch period.
The Sport models are popping up around the site, too, with about a $200 to $300 premium over their traditional retail price. A handful of the Watches on eBay today have a disconnect between their premium price point and estimated shipping date, so it still remains most sensible to pre-order from the Apple Online Store as soon as possible for those who have yet to do so. While the models listed here are some of the more extreme cases, even the lowest cost eBay listings are easily a few hundred dollars over Apple's retail price. And many of these are also listing prices, not actual bids, meaning demand may not meet these sellers' hopes.