List of Apple Stores That Will Carry the Apple Watch Edition at Launch
Following reports that Apple Watch Edition stock will be limited to select Apple Stores in the United States and other launch countries, MacRumors has discovered that Apple's Find Locations tool enables prospective buyers to search their local area to check for Apple Watch Edition availability. Below, we have identified some of the major cities and metropolitan areas in the United States, Canada, United Kingdom, Australia, France, Germany, Hong Kong and Japan that will carry the Edition.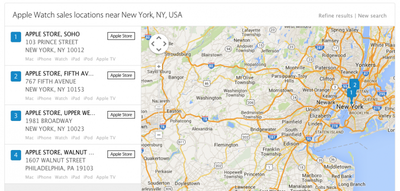 To check Apple Watch Edition availability in your local area, navigate to Apple's Find Locations website, click on Sales, use your current GPS-based location or enter another one, select Watch Edition from the list of all products, and click on the Go button. A map will then display nearby Apple Store locations that will be carrying the Edition. If you live outside the United States, you will need to change the country flag in the top right first.
United States
— New York City: Fifth Avenue, SoHo, Upper West Side
— Boston: Boylston Street
— Chicago: North Michigan Avenue, Lincoln Park
— Philadelphia: Walnut Street
— Washington DC: Georgetown
— Atlanta: Lenox Square
— Miami: Lincoln Road
— Virginia: Tyson's Corner Center
— Newark, Delaware: Christiana Mall
— Bay Area: San Francisco, Stanford
— Los Angeles: The Grove, Third St. (Santa Monica), South Coast (Costa Mesa)
— Las Vegas: Fashion Show
— Houston: Highland Village
— Dallas: Northpark Center
— Seattle: Bellevue Square
Canada
— Toronto: Eaton Centre
— Montreal: Sainte-Catherine
United Kingdom
— London: Covent Garden, Regent Street, Selfridges
Australia
— Sydney: George Street
— Brisbane: MacArthur Chambers
— Melbourne: Southland (Cheltenham)
France
— Paris: Carrousel du Louvre, Opera, Galeries Lafayette
Germany
— Berlin: Kurfurstendamm
— Munich: Rosenstrasse
Hong Kong
— Festival Walk
— International Finance Centre (IFC)
— Causeway Bay
Japan
— Tokyo: Isetan, Ginza, Omotesando
— Osaka: Shinsaibashi
China will also be carrying the Apple Watch Edition in at least 12 of 19 retail stores throughout the country, as the market is expected to be a major contributor to Edition sales. Apple Watch pre-orders and try-on appointments begin April 10, and the device officially goes on sale April 24 in the first wave launch countries listed above. We will update this post if we come across any other locations carrying the Edition.