Apple Online Store Down Ahead of Apple Watch Pre-Orders
Apple has taken its online store down to prepare for the launch of Apple Watch pre-orders, as it often does ahead of a product launch. Pre-orders for the Apple Watch are expected to begin at 12:01 AM Pacific Time or 3:01 AM Eastern Time in the United States. Orders for the MacBook, which goes on sale on April 10, may also kick off at 12:01 AM PT when the store comes back up.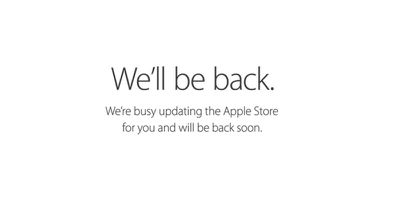 Pre-orders are occurring in all first wave launch countries at the same time so customers in other countries will be able to order at a local time equivalent to 12:01 AM PT. Here's a full list of first wave launch countries and their order times (in local time):
- U.S., Canada: 12:01 a.m. PDT, 3:01 a.m. EDT
- U.K.: 8:01 a.m.
- Germany: 9:01 a.m.
- France: 9:01 a.m.
- Australia: 5:01 p.m. AEST, 4:31 PM ACST, 3:01 PM AWST
- Hong Kong: 3:01 p.m.
- China: 3:01 p.m.
- Japan 4:01 p.m.
Apple will accept online orders for the Apple Watch both through its website and through the Apple Store app. Apple's head of retail Angela Ahrendts made an announcement earlier today to let prospective buyers know that supplies of the Apple Watch are likely not going to meet demand, so users hoping for the earliest delivery dates should plan to order right as pre-orders become available.
Information obtained from the German Apple Store app earlier this week has suggested that some models of the stainless steel Apple Watch may be so limited that they won't ship by April 24, but it remains unclear if that was an early estimate or a shipping estimate applicable only to Germany.
Still, buyers should be prepared to possibly encounter estimated delivery dates that could be as far off as June for some band choices, including the Modern Buckle, Leather Loop, and Link Bracelet. Edition Watches may ship in May.
If you're still trying to figure out which Apple Watch to buy, check out our Apple Watch Buyer's Guide and our Buyer's Guide video, which is available below. They'll give you a rundown on all of the available options and some things to take into consideration when choosing a watch.
Apple Watch pricing begins at $349 for the Apple Watch Sport, $549 for the stainless steel Apple Watch, and $10,000 for the gold Apple Watch Edition. Pricing varies heavily based on band choice, with the cheapest band being the $49 Sport Band and the most expensive band being the $449 Link Bracelet. Early Apple Watch orders will be delivered to customers beginning April 24, which is the official launch date for the device.