Rumored iPad Mini 4 Rear Shell With iPad Air 2 Design Elements Shown Off in New Video
When Apple launched the iPad Air 2 and the iPad mini 3 in late 2014, many people were disappointed with the iPad mini update, which essentially just added Touch ID to the existing iPad mini 2 with no other external design changes. Since then, there have been a few rumors suggesting Apple is working on an iPad mini 4 update that includes iPad Air 2 design elements like a thinner body.
French site Nowhereelse.fr [Google Translate] today shared a video and some images of what's said to be an early version of the rear casing for the upcoming iPad mini 4.
The aluminum shell closely resembles the shell of the existing iPad mini, but it does include several design elements introduced with the iPad Air 2. There's a single row of larger speaker holes alongside the Lightning port at the bottom of the device, rather than two smaller rows, and the mute switch on the device has been removed and replaced with a microphone hole.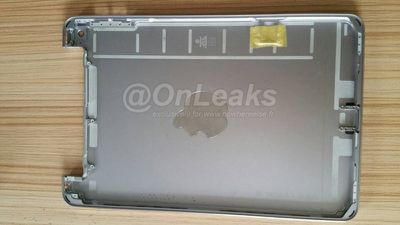 Rumors have suggested the iPad mini 4 will be thinner than the iPad mini 2 and the iPad mini 3, giving it a thickness more akin to the iPad Air 2, but it is difficult to determine the device's possible thickness based on the images that were shared. Along with an iPad Air-style design, an updated iPad mini 4 would likely adopt one of Apple's more recent processors, possibly the A8X in the iPad Air 2 or an A9 processor coming later this year.


There's been little word on when an updated iPad mini might launch, but given Apple's historical fall release schedule for iPads, it's unlikely we will see the iPad mini 4 until the later months of 2015.