Apple Watch for Sale in Retail Stores by Reservation Only, No Walk-In Sales
As the Apple Watch launch approaches, details have been leaking out about how Apple will be handling sales of their new device. According to leaked Apple documentation, the company will not be selling the Apple Watch to walk-in customers at launch.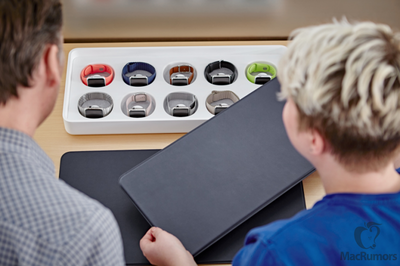 Apple will begin offering online pre-sales of the Apple Watch starting on April 10th, with the first deliveries occurring on April 24th, the official Apple Watch launch date. During those two weeks, customers will be able to have hands-on "try-on" appointments at Apple retail stores in order to help make up their mind.
However, according to training documents that MacRumors has received, Apple is not allowing any walk-in retail purchases for the Apple Watch at launch. Instead customers must make an online "Product Reservation" to hold a specific Apple Watch model at a retail store. This new "Product Reservation" system is used instead of Apple's "Personal Pickup" system for Apple Watches. Apple's retail training documents indicate that "If a customer walks in and wants to purchase a watch, offer the option to try on a watch. Then help them place an order online or through the Apple Store app."
Apple seems to expect low inventory for the Apple Watches, and notes that "try-on" appointments also do not reserve a specific Apple Watch for purchase. Apple expects to eventually allow walk-in purchases, but not until the initial wave of demand has passed.