Verizon Wireless Lets Customers Opt Out of Tracking 'Perma-Cookies'
Last year, Verizon and AT&T made headlines when researchers discovered they had been engaging in some unsavory customer tracking techniques, using unique identifier numbers or "perma-cookies" to track the websites that customers visited on their cellular devices to deliver targeted advertisements, a practice called "Relevant Advertising."
Following customer backlash, AT&T stopped using the hidden web tracking codes to keep tabs on the websites that its customers visited, but Verizon continued on with its Relevant Advertising program, which it's been using for approximately two years. While there was an option to opt out of Verizon's program, opting out did not stop the intrusive code from being inserted into the URLs of Verizon customers, leaving a security hole that could let advertisers exploit Verizon customers.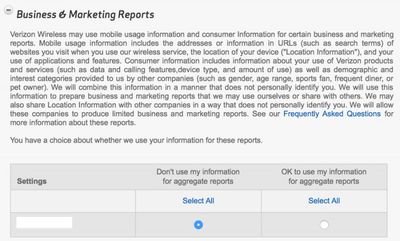 As of today, The New York Times reports that Verizon has given its customers a true opt out option that does not insert the identifying tracking codes (or UIDH) into the URLs of customers who opt not to be tracked, as it promised to do in January.
In a statement, Debra Lewis, a Verizon spokeswoman, said privacy is a "central consideration" for the company when it develops new products and services.

"As the mobile advertising ecosystem evolves, and our advertising business grows, delivering solutions with best-in-class privacy protections remains our focus," Ms. Lewis said. "As a reminder, we never share information with third parties that identifies our customers as part of our advertising programs.
Verizon customers can opt out of the Relevant Advertising program by logging into their My Verizon accounts and selecting "Manage Privacy Settings" from the "Manage My Account" section of their user profile. AT&T and Verizon customers are able to check whether their devices are sending identifying codes by visiting a website created by Kenneth White, one of the security researchers who originally discovered the tracking methods. Verizon's tracking programs are automatic opt-in, so many users may need to navigate to the aforementioned page to turn off the tracking.