After launching in a beta capacity earlier this year, Copportino's Vox 1.0 music player is now officially available for download from the Mac App Store. The Vox player was first released in 2007, but has since seen a major redesign and functionality overhaul.
The app, which offers a minimalistic design, is designed to be a replacement for playing music within iTunes. It supports a wide variety of audio formats like MP3, FLAC, AAC, Musepack, Ogg Vorbis, WAV, and more, plus it integrates directly with iTunes.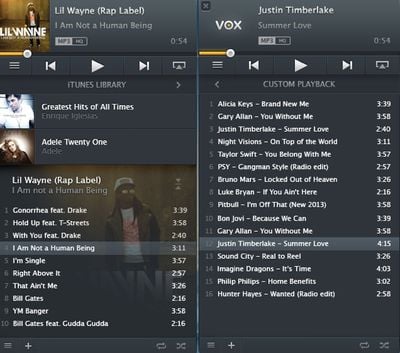 Vox supports a number of music sources, including network drives, external hard drives, and VPN-connected storages. Its built-in equalizer comes equipped with presets and adjustments to improve the listening experience and it also offers built-in internet radio connectivity, which is available as an in-app purchase. Here's a full list of features:
- Play numerous lossy and lossless audio formats;
- Work with different audio sources including custom VOX Playlist, iTunes Library and online Radio;
- Keep your listening statistics up-to-date with your LastFM account by means of LastFM scrobbling;
- Automatically search for all the missing album artwork from MusicBrainz and LastFM databases;
- Open different playlist types including M3U, PLS, XSPF and the popular CUE format used to store CD rips;
- Control the player from the main interface, Dock context menu or main menu controls;
- Use keyboard media keys, headphones buttons and Apple Remote to control playback (requires VOX Preference Pane);
- Easily add music via smart drop zones, ordinary open dialog and Finder context menu;
- Use equalizer with presets and custom mode, crossfade, fade on play/pause, converting music to 5.1 or 7.1 format;
- Preview album artwork right in the Dock icon;
- Convert stereophonic audio in your headphones to binaural using Bauer DSP (BS2B) technology;
While Vox is a free download, MacRumors has teamed up with Copportino to offer MacRumors readers exclusive free access to the premium radio feature of the app by completing these steps:
- Download the free Vox app from the Mac App Store. [Direct Link]
- Open the Vox app (This also works with the beta version of the app)
- While Vox is open, click on this link to get to the unlock page.
- Enter a name and an email address and the full version of the app will be automatically unlocked.
Vox's radio feature offers access to thousands of different stations and can be accessed by switching sources just under the play controls of the app. Search is available after clicking the small search symbol also located under the play controls.
The full version of the Vox media player will be available for MacRumors readers from 9 a.m. ET to midnight ET.